Description
We're proud to announce that, thanks to our ongoing efforts and continuous breeding process, Gorilla Zkittlez Auto recently tested at a jaw-dropping 29.845% total cannabinoids and is now the current champion of Dabadoo Brasil 2022. This strain won 1st place in a competition where nothing other than the most powerful terpene profiles could win, which is attested by the latest lab results – it's one of the most potent and tastiest autoflowers out there. So, make way for the most flavourful, highest-yielding money maker that delivers nothing less than perfection when it comes to flavours, yields, and quality of resin. Those looking for a potent and long-lasting experience will have an excellent time with our Gorilla Zkittlez Auto. This hybrid combines old-school flavours with a modern fruity twist, resulting in a unique terpene profile that produces a range of effects. It begins with a strong and uplifting head high that boosts creativity before transitioning into a long-lasting body stone. With up to 27.666% THC, this Indica-dominant hybrid produces highly resinous buds, yielding up to 650 gr/m2 in just 65 days. It is a top choice for extractors and hash makers seeking the most potent trichome producers in auto-flowering version.
Bud description
Absolutely stunning buds. Gorilla Zkittlez Auto buds produce beautiful dark green purplish hues with long and thin orange hairs and so much resin that they end up almost completely white and glistening by harvest time. The tennis-ball-sized buds give off a strong earthy smell with lemon and orange peel hues that resemble sweet n' sour weed gummies and only get more and more captivating as you break them open.
Smoke report
This variety offers a powerful effect that sneaks into your brain and slowly builds up, leaving you soaring through the sky before you know it. Gorilla Zkittlez Auto effects start as a nice relaxation with a strong sense of pure happiness that boosts creativity and will have you laughing at anything. The strong head high gradually fades away and gives place to a long-lasting narcotic effect that works great for treating symptoms of insomnia and muscle pain, for example, while still leaving you motivated to go through a busy day untroubled. Truly an all-around crowd-pleaser.
Plant appearance
Gorilla Zkittlez Auto reaches up to 150cm and develops a beautiful structure with an evident Indica dominance that's easy to see in the robust branching, wide fan leaves, and overall stocky structure. Thanks to the top genetics, this strain develops lots of flowering sites perfectly placed throughout the branches that finish with very little sugar leaves with a gorgeous green almost dark purple colour. Yielding up to 650gr/m2 in just under 65 days, it's the ideal strain for growers seeking the fastest and highest-yielding auto flowers in the market.
Grow tips
This variety can stretch and almost double its size during the first weeks of flower so make sure to have enough vertical space to avoid issues further into the flowering stage. If you're growing several different strains in the same space, keep an eye on this auto and tie the branches as it can easily overshadow smaller plants. When dealing with high humidities always have an oscillating fan that's strong enough to provide enough airflow in between the buds to avoid mold, bugs, and other harmful pathogens.
Flavour
Gorilla Zkittlez Auto offers a complex mix of classic and modern terpenes. This strain reeks of a spicy and woody background that gets buried down by the strong candy-sweet flavors. On the inhale, expect flavourful old-school nuances that come hand-in-hand with a refreshing fruity background that ranges from sweet orange to a sour lemon taste. And as you exhale, the fruitiness unleashes its full power, leaving the old-school taste behind while knocking your taste buds off with the overwhelming tropical gummy bear flavor.
Sealed to ensure authenticity
Waterproof Coating
Aluminium interior lining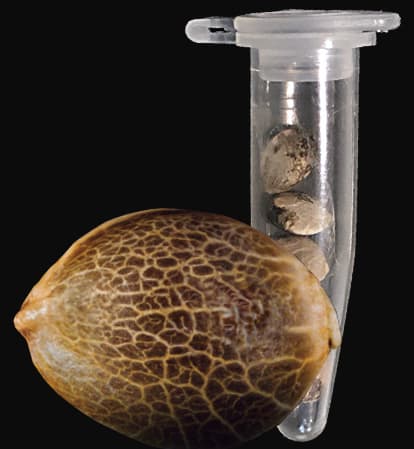 Protective sticker
QR code
Scratchable serial number