Description
A superb hybrid auto flower with extremely flavourful terpenes. With exceptional 25% THC, Cherry Cola Auto is a strong auto flower that produces a rare smell of tropical berries with a sweet and fizzy background, giving it a notable cherry cola flavour that you might never find in other autos. This delicious strain offers a well-balanced effect that starts as a joyful sense of well-being that allows you to zone out and disconnect while keeping you relaxed and care-free throughout the whole day. Thanks to top-notch genetics, this vigorous auto flower grows fast, reaching up to 150cm and yielding 500 – 600gr/m2 in just under 70 days. With exceptional flavours and extremely dense buds, it's the ideal strain for those looking to take advantage of all the benefits of modern auto flowers.
Bud description
Expect extremely frosty nugs with a mind-blowing cherry smell. Cherry Cola Auto produces magnificently dense light-green buds with specks of magenta and long dark-orange hairs that finish with a bluish tinge thanks to the thick layer of resin.
The mysterious terpene mix slowly but surely unravels its secrets: as soon as you break the buds apart the whole room gets filled with a fruity diesel smell. The powerful aroma gradually turns into a sweet cherry candy smell with an indescribable fizzy background. Definitely the right choice for those looking to get their hands on the terpy-est auto flowers out there and take extractions to a whole new level.
Smoke report
Thanks to the balanced genetics, this variety offers a strong yet well-balanced high that can be felt almost immediately after taking the first hit. Cherry Cola Auto delivers a joyful effect that lifts your mood and completely relaxes your mind, leaving you stress-free and in an overall happy state of mind.
The initial head high slowly turns into a more corporal effect that can alleviate muscle pain and help deal with anxiety and eating disorders without leaving you extremely couch-locked. It's a great strain with a versatile effect, perfect for those who want to start their days with the right foot, go through a busy day stress-free, and end their nights sleeping like a baby.
Plant appearance
This strain offers the best of both Indica and Sativa varieties. Cherry Cola Auto grows vigorously and super tall, reaching up to 150cm and developing a sturdy main cola with several thick side branches around it that can withstand the 600gr/m2 harvest without thinking about it twice.
This variety develops fairly bushy, developing thin and narrow dark-green leaves that fade into a beautiful pinkish light-green and get completely covered in trichomes by harvest time. So if you're an extractor or hash maker, get your trimming bin prepared for this one!
Grow tips
If you're having trouble controlling humidity, it's recommended to have an exhaust fan running 24/7 as it helps maintain lower humidity and prevents mold from attacking your plants. Due to the insanely fat buds, it's highly recommended to tie down the branches as this allows all flowering sites to get more light and improves airflow between the buds, thus preventing bugs and popcorn buds. This strain is highly recommended if you're growing in a SCRoG setup as the long main cola and side branches will make your life much easier.
Flavour
Cherry Cola Auto completely coats your throat with an overall tropical taste with a strong gassy background that gets stronger and stronger as you inhale. And as you exhale, the gassiness fades away, giving place to a fizzy taste with intense cherry, strawberry, and raspberry flavours that coat your mouth and leave a strong scent of berries in the whole room. The ideal variety for hash makers, extractors, and terp-heads.
Sealed to ensure authenticity
Waterproof Coating
Aluminium interior lining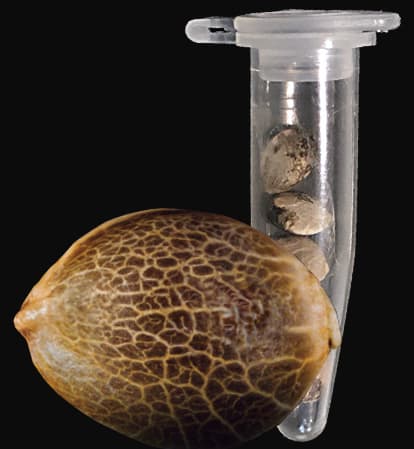 Protective sticker
QR code
Scratchable serial number